*** PLEASE NOTE THIS EVENT IS SOLD OUT ***
Back by popular demand! Minnesota Recruiters is hosting a premier networking lunch event for Recruiting, Human Resources and Talent Management professionals throughout the region.
The event will be held on Thursday, June 15th, from 11:30 am – 2:00 pm, aboard Al & Alma's Bella Vista Yacht on Lake Minnetonka. The pick-up and drop-off location will be at the Wayzata Port.
Register now to join 150 practitioners throughout the Twin Cities region for this opportunity. Your registration includes the following:
Lunch, dessert, and unlimited soft drinks
2 hour cruise on Lake Minnetonka
An opportunity to discuss leading-edge trends in Recruiting, HR and Talent Management; with your peers, practitioners, and leaders
Engage in dialogue on a variety of topics including recruiting, diversity, retention, metrics, employee engagement, ROI, and more.
A great opportunity to meet and network with the some of the best and brightest in the business.
Unforgettable photos.
Please note to ensure the best experience and the richest networking opportunity, this event is being capped with a maximum number of allowed participants.  The tickets are on a first come, first serve basis – and we will not be able to add additional seats.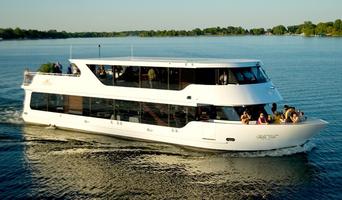 This is a great opportunity to network with professionals and thought leaders responsible for attracting, developing, and retaining talent in leading organizations – throughout the region. Attendees from our previous events were representing leading companies including 3M, Best Buy, Honeywell, Seagate, Ameriprise Financial, General Mills, American Medical Systems, US Bank, Lyman Lumber, Boston Scientific, REMAX, Sleep Number, Buffalo Wild Wings, Health Partners, Park Nicollet, University of Minnesota, University of St. Thomas, Walser Automotive, Lifetouch, Blue Cross Blue Shield, Famous Daves, Border Foods, Minco, and more!